Miramar Call Center Services
As a California call center, we're thrilled that we have the opportunity to serve businesses in and around Miramar. For more than 40 years, Phone Ware Inc. has operated a San Diego call center that gladly caters to nearby areas like Miramar.
As a leader in our industry, we know that call centers in Miramar strive to close sales, generate leads and enhance the relationships that the brands they represent have with their clients. We do the same every day on behalf of our valued clients.
Our San Diego Call Center
While our physical call center is a 20,000-square-foot facility located in San Diego, our services are actively sought out by businesses operating in an array of industries in Miramar. With Fortune 500 clients that include Verizon and AT&T, we have a team of 400 highly trained telemarketing sales representatives and 300 seats that offer calling solutions that comply with all federal and state mandates.
We maintain a strong culture of performance and excellence at our San Diego call center. By demanding excellence from ourselves, we can do more than meet our clients' expectations. We're able to exceed them.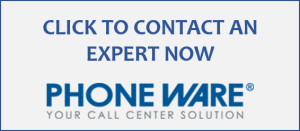 Our Services
We provide expert inbound and outbound call center services, generate leads, close sales, conduct surveys, provide chat and email services, prepare white papers and offer free consultancy services.
We know your products or services may appeal to consumers whose primary language isn't English. That's why we offer multilingual call services at competitive prices — we want your brand to be able to communicate with every client and prospect seamlessly.
No matter how big or small your sales campaign is, we strive to achieve the best results possible in everything we do. Whether you want to launch a new product or your objective is to increase customer satisfaction, you can achieve more by using our local, nearshore call center services.
Why Phone Ware Inc. Is the Right Choice for Your Miramar-Area Business
If you're not already convinced that Phone Ware Inc. is the right choice for your outsourced call center, our decades worth of strong client references may convince you. If they don't, the long list of the awards and certifications we've earned over the years might. If that's still not enough, our proven dedication to clients, record of exceeding clients' expectations and longstanding, ongoing success should do the trick.
If you want to enhance customer satisfaction, close more sales and generate more leads, our services are what your Miramar-area business needs. Contact Phone Ware Inc. to learn more today.