Outbound Call Center Services
While some outbound sales call centers will make the case that a successful outbound sales campaign is all about dialing as many phone numbers as possible, we don't necessarily agree. Although effective outbound sales campaigns do involve making a large number of calls and having a well thought out outbound script, they're about much more than calloused fingers, speed dialers and predictive dialers. Outbound sales campaigns are about prospecting and fostering relationships. They're about creating opportunities for a sale not just today, but down the line as well.
Our Outbound Call Center Services
As one of the nation's top B2C and B2B lead generation call centers, companies like Verizon, Mastercard and Expedia rely on Phone Ware Call Centers for their call center needs. For more than 44 years, we've conducted effective outbound call center campaigns for businesses in a wide range of industries.
In addition to generating high-quality leads, reaching out to prospects and establishing lasting relationships with customers, we also provide many other services that can make your outbound sales campaign more successful than it would be otherwise. We
create opportunities for up-selling and cross-selling.
collect data and conduct surveys.
follow up with prospects via direct mail.
actively engage in social relationship management.
profile outbound call center lead generation lists to ensure we're contacting prospects who are the most likely to have an interest in your goods or services.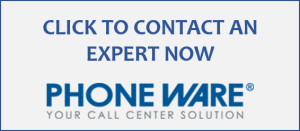 Our call center agents are experts at rendering customer care, and they're trained to ask the right questions the right way for maximum effectiveness in every exchange they have.
Put simply, we provide all the services necessary to make your next outbound sales campaign a success. From preparing white papers, managing representatives who will make calls on your behalf, providing free consulting services and more, we do it all.
The Benefits of Our Outbound Call Center Services
If you're considering outsourcing your outbound call center needs, then you need not look beyond Phone Ware Call Centers to find a service provider you can trust to meet your goals. We operate in a performance-driven environment where good is never good enough.
Our team is driven to succeed. We're not happy with just meeting your expectations. We're motivated to exceed them with our outbound call center services.
When you choose Phone Ware Call Centers as your outbound telemarketing company, you can rest assured that highly trained experts are working tirelessly to achieve your campaign's sales goals. You can also take comfort in knowing that everything we do on behalf of your organization complies with federal and state regulations (Including TCPA and TSR regulations). Importantly, we are PCI Level 1 compliant for credit card payment processing and we are also PACE/SRO certified (the industry's top accreditation for Best Practices compliance). We don't take any chances and we don't put the reputation of our clients at risk in anything we do.
Why Phone Ware Call Centers?
Phone Ware Call Centers operates as a full-service, state-of-the-art, integrated call center in a 20,000-square-foot facility. We have the experience, staff and capabilities to handle any outbound call center campaign — regardless of how big or small it might be.
Since we opened our doors in 1974, we've amassed a veritable library of client references, certifications, accomplishments and awards. With decades of experience, we're the easy choice for many Fortune 500 companies like AT&T, Sprint, Charter Spectrum and Cox Communications.
To learn why our outbound call center services should be the easy choice for your organization, contact Phone Ware Call Centers today.