Multilingual Call Center Services
Phone Ware Inc. has operated as a leading call center since 1974. With more than four decades of experience, we can assure you that language is the basis of everything we do. We're in the business of communicating with customers and prospects on behalf of our own clients, after all, so it's only natural that language is an essential part of how we conduct our business.
While just about everyone would agree that language is a critical tool for any business, including a call center, we can tell you that being able to communicate in just one language isn't enough for many businesses in today's connected society. Since we interact with clients and prospects for Fortune 500 companies like Verizon and Sprint that have global markets, we recognize this. That's why Phone Ware Inc. isn't just a call center, it is a multilingual call center.
Reasons to Use Our Multilingual Call Center Services
One of the top reasons companies like Time Warner Cable and Expedia use our nearshore, multilingual call center services is that we allow them to provide better service to their own customers and prospects. Our inbound and outbound multilingual call centers offer call services, email services and chat services in a variety of languages, including English, Spanish, Chinese, Korean and more.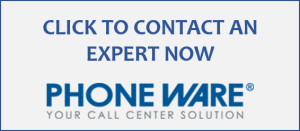 Our ability to provide so many services in an array of languages enables our clients to enjoy some key benefits. Here are some of the benefits our multilingual, nearshore call center services often provide:
Wider Target Market: When your business is able to communicate with consumers in their native language, it presents an opportunity for you to increase the size of your target market by adding a new demographic group.
More Personalized Customer Service: By using bilingual outsourced call centers, you can provide a personalized customer service experience that will leave your customers and prospects more satisfied. It also shows that you care about the people your brand communicates with, which can increase their loyalty to your brand.
Better Conversion Rate: When call center agents representing your business talk to customers and prospects in their own language, it can dramatically increase your conversion rate because both parties will be able to communicate with one another clearly and accurately.
Reduced Labor Costs: When you use our nearshore, multilingual call center services, you can save on your labor costs. Instead of having to hire and train in-house staff members who speak multiple languages, you can simply trust our multilingual call center for all your call center needs.
Contact Phone Ware Inc.
If you'd like to learn more about the benefits of using a multilingual call center or the other services we provide, we invite you to contact us. We'll discuss your business, describe our services in detail and provide a free, no-obligation quote for you based on your needs and the services you're interested in. Contact the friendly experts at Phone Ware Inc. today.