24/7 Outsourced Chat Service
Today, many online shoppers demand instant access to the brands they do business with. If a company's contact information is tucked away and hard to find on a website, it can drastically undercut the credibility of the organization and cause consumers to abandon their shopping carts.
One way you can give consumers or other businesses instant access to your brand is to provide outsourced live chat support services on your website. Shoppers don't want to wait to have their questions answered or their problems solved. They want these things now, in real time, and you can provide them by having live chat on your site.
Our Chat Center Services
If you want to offer live chat on your website but you don't have the bandwidth to do so in-house, you may want to outsource your online chat support customer service to a trusted third party. Since Phone Ware Call Centers was founded more than 44 years ago, we've developed a full suite of sought-after services that help large companies achieve their business objectives. Our extensive menu of available services includes live chat support services.
Whether you need B2C or B2B chat support, we provide the services necessary to handle your customer service. We'll train our chat center agents so they know your business and your company's history and values. Our representatives will be intimately familiar with your products or services and they'll be prepared to respond to inquiries informatively and accurately. Our agents are experts at resolving problems before they put consumers at risk of abandoning our clients' brands.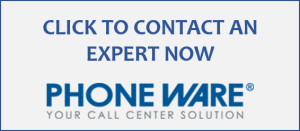 The Benefits of Our B2C and B2B Chat Support Services
Our chat and social media call center services provide some significant benefits that are meaningful to our clients. One of the biggest benefits our services provide is increased and improved engagement with consumers. Shoppers want to be heard when they reach out to a business, and they want responses. By allowing us to handle your live chat, you'll give consumers a voice that we'll respond to on your behalf.
When you enable live chat on your website, you're giving consumers another avenue to contact your organization. Depending on the live chat feature you integrate into your website design, visitors may be able to copy and paste or download a transcript of chats in their social media feeds and sing your company's praises online.
When you hire Phone Ware Call Centers to handle your live chat, you can rest assured you'll be proud of every exchange we have with your website's visitors. Everything we do is done professionally and in a manner that's compliant with federal and state regulations (Including TCPA and TSR regulations). Importantly, we are PCI Level 1 compliant for credit card payment processing and we are also PACE/SRO certified (the industry's top accreditation for Best Practices compliance). We don't take any chances and we don't put the reputation of our clients at risk in anything we do.
Why Phone Ware Call Centers?
Companies, trust Phone Ware Inc. with their live chat because we've been experts in our field for decades. Over the years, we've earned a countless number of client references, awards and certifications, and we plan to earn even more as we move forward.
To learn why you should choose our award-winning company to provide 24/7 live chat support services for your company, contact Phone Ware Call Centers today.